Photography is just what I do for fun. Below are a couple of ways to access some of my pictures.
Flickr is where I post most of my images. Another site, Flickriver, provides an attractive way to view an "endless" scroll of Flickr photos with the most recently unloaded at the top. Clicking on any image on the Flickriver site will send you to the original Flickr site.
Flickr has a category it calls "most interesting." That apparently has something to do with the number of hits and comments a given image gets from the Flickr community. Whatever…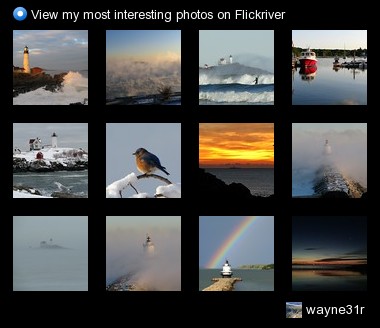 Flickr also allows you to "tag" a photo with any descriptor that you choose. For example, here is a random selection of pictures tagged "mill pond" that I've taken around Barrell's Mill Pond.
You can even view a specific image with a black background.
In the right column, you can see my five most recent Flickr photos.
And still another way to view my shots is at http://www.flickrgrab.com/username/wayne31r, where you can see thumbnail images of 250 pics at a time.